2019-2020 College Catalog
Auto Collision & Paint Repair Technology, AAS
---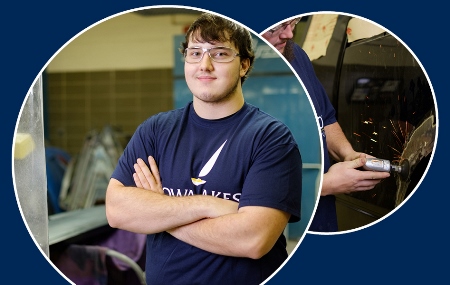 Learn a unique skill-set that's needed anywhere in the world with our dual-track Auto Collision and Paint Repair Technology program. Gain hands-on auto and paint repair experience working in a modern, high-tech lab at the Emmetsburg campus and through student internship opportunities.
Become competent in skills such as welding, unibody repair, plastic repair, panel bonding, glass replacement and vehicle detailing. In the first semester, you'll work on a number of door panels, then move on to real customer projects, doing metal, plastic or aluminum repairs on vehicles. You'll also gain practical experience in writing estimates and repairing damaged vehicles using crash estimate guides and estimate forms.
Learn to mix paint with the facility's PPG Paint Mixing System, which more than 70 percent of area auto body shops use in their daily operations. Using PPG products gives you experience with industry materials as they develop professional techniques in spray painting, tinting and blending paint and other modern refinishing strategies.
In just one year, you'll earn your diploma and be ready to work as an entry-level technician. If you dream of running your own shop or you simply want to have more career options available, enroll in the two-year program to earn an Associate in Applied Science (AAS) degree. In the second year, you'll learn necessary business skills in courses such as accounting, business management and communications.
Auto Collision & Paint Repair Technology Program Outcomes
Apply damage analysis for writing repair plans.
Apply damage analysis for writing estimates.
Perform nonstructural vehicle repairs to entry level industry standards.
Perform structural vehicle repairs to entry level industry standards.
Perform refinish preparations and refinishing application to entry level technician standards.
Communicate with customers and industry personnel.
Demonstrate safe work habits and procedures in a collision repair facility.


 Faculty Contact
 
Rob Schultz
712-852-5236
rschultz@iowalakes.edu
Additional Information
TO REQUEST MORE INFORMATION: Click here 
Request a Cost Estimate Worksheet: Click here