2020-2021 College Catalog
Farm Equipment & Diesel Technology, AAS
Print this Page
---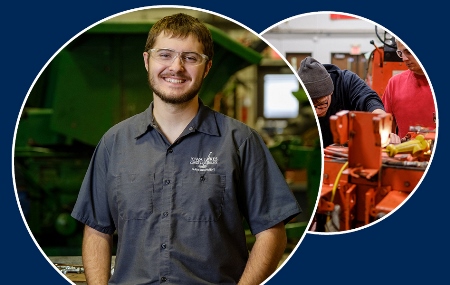 Gain hands-on experience with farm equipment while earning an Associate in Applied Science Degree. Through our Farm Equipment and Diesel Technology program, you'll become familiar with all aspects of farm equipment and diesel maintenance and repair. The skills and work experience you gain here will prepare you for a job at a major farm equipment dealership.
Receive training in machinery set¬up and repair, complete tractor repair, hydraulics, welding and diesel service, and be ready to enter the workforce with a broad range of skills and knowledge of the field. Learn engine repair and diagnostic testing, engine overhaul and failure analysis, air conditioning, diagnosing of failed systems, repair of clutches, transmissions and final drives, differentials, combine operations and repair/adjustments. Develop skills in all aspects of fuel systems, including gasoline and diesel, injectors, diagnostics and more.
You'll spend two, four-week portions of the program working in a farm equipment dealership, earning money while completing your coursework. This on-the-job training ensures that you know what to expect when entering the workforce and, even better, that you'll be ready for it.
Farm Equipment & Diesel Technology Program Outcomes
Practice safety in the repair and service of agriculture equipment
Identify agriculture equipment system components.
Analyze agriculture equipment components for repair /replacement.
Evaluate agriculture equipment performance to determine needed repairs.
Repair agriculture equipment in the most cost efficient way and satisfying  to the customer 


 Faculty Contacts
Additional Information
TO REQUEST MORE INFORMATION: Click here 
Request a Cost Estimate Worksheet: Click here