2020-2021 College Catalog
Game Design & Development, AAS
---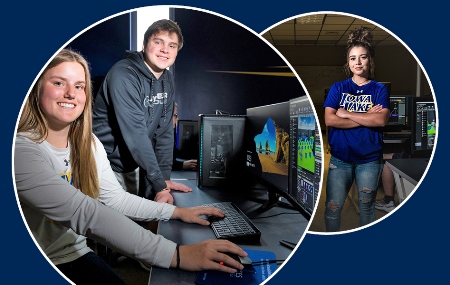 Are you looking for a career that aligns with your passions? Then our Game Design and Development program may be a great fit for you. The modern world is geared toward interactive gaming and technology, resulting in a higher demand for workers with the skills and knowledge to implement these aspects into the industry. If you've always wanted to work in gaming, now is the time.
Develop skills in computer hardware, networking and basic computer programming. Receive training in game programming, 3D modeling and animation, level design and game engines.
You'll also have the unique opportunity to start your gaming portfolio by creating a fully-functional 3D game as part of your final project.
Whether you choose to become a developer, designer, game tester or programmer, you'll learn the ropes of the role in a hands-on work environment through our program. Enter the workforce with proof of your technical training and experience.
Game Design & Development Program Outcomes
Apply the essential elements of a game to projects
Design dynamic, engaging 2d and 3d environments
Construct dynamic, engaging 2d and 3d environments
Write efficient C++ programs using standard data structures and algorithms
Develop games using industry standard game engine technology
Design 2d and 3d graphical assets and animations in a variety of game development projects
Incorporate 2d and 3d graphical assets and animations into a variety of game development projects
Implement efficient persistent storage mechanisms for player data
Utilize event driven programming to accept and respond to user input
Experiment with emerging game development technologies related to virtual and augmented reality
Improve code accuracy by using standard debugging tools and testing methodologies


 Faculty Contact
Weston Miller
712-362-7938
wmiller@iowalakes.edu
Additional Information
TO REQUEST MORE INFORMATION: Click here 
Request a Cost Estimate Worksheet: Click here