2020-2021 College Catalog
Graphic Design, AAS
---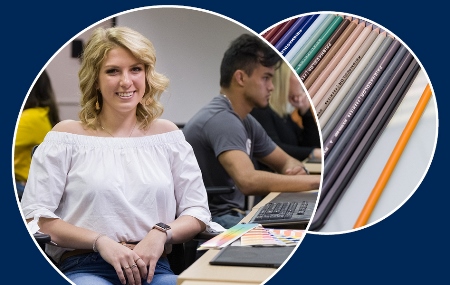 Start your professional work portfolio right here in our Graphic Design program. With the option to earn a Diploma or an Associate in Applied Science Degree in Graphic Design, you'll receive the education and experience needed to launch your career in our dual-track program.
Develop skills in design, graphics, animation, typography, digital illustration, drawing, photography and advertising techniques while learning in our state-of the-art Macintosh Computer Lab. Featuring 17 new iMac computers with the latest Adobe Creative Cloud suite applications, the graphic design classroom has everything you need to do your work efficiently.
Gain on-the-job experience through internships, increasing your chances for job placement after graduation. Working on a shared network drive with other students and your instructor will also give you a taste of how graphic designers work in the field.
Whether you choose to pursue print design, animation or multimedia authoring, the digital portfolio you produce in our program will help get you started for a creative career path.
Graphic Design A.A.S. Degree Program Outcomes
Demonstrate communication skills through presentations, critiques, written content, and rapid visualization.
Produce comprehensive layouts for client/project.
Produce original design solutions.
Interact with clients or directors in a professional manner.
Create layouts, storyboards, sketches, and/or site architecture map. 
Write proposals, design ideas, and presentations in a clear and precise manner.
Demonstrate readiness for the workplace with the creation of a working digital portfolio.
Apply principles of color theory, perspective, and design essentials to traditionally and digitally produced projects.


 Faculty Contact
Mark Rosenberg
712-362-7976
mrosenberg@iowalakes.edu
Additional Information
TO REQUEST MORE INFORMATION: Click here 
Request a Cost Estimate Worksheet: Click here