2020-2021 College Catalog
Veterinary Technician, AAS
---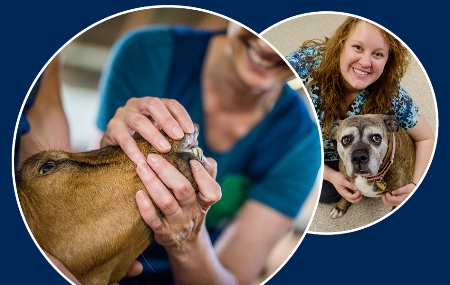 Get acquainted with all areas of animal patient care through the Veterinary Technician program at Iowa Lakes. You will earn an Associate in Applied Science degree and develop the skills needed to assist doctors of veterinary medicine in a range of ways. Veterinary technicians need in-depth training and practical experience to best care for and handle animals. Additionally, they need to be able to help their clients understand the care their animal is receiving. Through our program's coursework, you will gain hands-on experience with lab tests, radiology procedures and surgical assisting through our animal clinic observations classes and internship opportunities.
Our program is accredited by the American Veterinary Medical Association. You'll be equipped with the training and skills needed to pass the Veterinary Technician National Exam (VTNE) and the Iowa Veterinary Technician State Exam.
Program Acceptance Requirements
1. Complete an application for admission to Iowa Lakes Community College.
2. Satisfy the assessment requirement:  take a placement test and meet minimum Reading, Writing, and Math score requirements: 
ACCUPLACER Next Generation Writing Skills Score of 250 or higher
ACCUPLACER Next Generation Reading Score of 245 or higher
ACCUPLACER Next Generation Algebra (QAS) Score of 250 or higher
or
ACCUPLACER Sentence Skills Score of 60 or higher
ACCUPLACER Reading Score of 70 or higher
ACCUPLACER Elementary Algebra Score of 60 or higher
or
ACT English Score of 17 or higher
ACT Reading Score of 16 or higher
ACT Math Score of 19 or higher
3. High School Grades
Cumulative GPA of 2.5 or higher
or
GED of 550 or higher or HiSet certificate
4. Submit all official transcripts (high school and college).
5. Complete the following pre-requisite courses with a grade of "C" or better: 
Introductory Biology or higher (or one year high school biology)
Introduction to General Chemistry or higher (or one year high school chemistry)
6. The College Admissions Office will determine the 24 students who will receive an invitation for the program orientation, and registration. At the time the College formally processes your admission application, you will receive additional information regarding all requirements for this program.
7. Program Conference: Applicants as determined by assessment scores and admission dates will be invited to a program orientation with the Veterinary Technician Coordinator.
Veterinary Technician Program Outcomes
Demonstrate collaborative skills as a member of the veterinary healthcare team.
Employ industry standard office and hospital management procedures. 
Apply pharmacologic principles and procedures in veterinary practice.
Perform surgical preparation, anesthesia and assistance in veterinary surgery and hospital treatment.
Perform food animal, equine and companion animal inpatient and outpatient nursing.
Obtain laboratory samples and perform veterinary clinical laboratory procedures on those samples.
Perform diagnostic medical imaging.
Uphold applicable laws, ethical codes and Occupational Safety and Health Administration safety requirements within the profession of veterinary technology.
VTNE Pass Rates
The VTNE pass rates for the previous three years has been as follows:
Number of First time test candidates from July 2017-June 2020 = 31
Three year pass percentage from July 2017-June 2020 = 45.16%


 Faculty Contact
Dr. Michael Zaugg
712-852-5332
mzaugg@iowalakes.edu
Additional Information
TO REQUEST MORE INFORMATION: Click here 
Request a Cost Estimate Worksheet: Click here