2020-2021 College Catalog
Business Specialist Diploma
---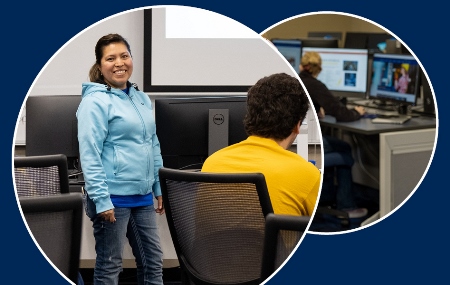 Develop the technical, business and professional skills needed to enter the workforce while earning a diploma in our Business Specialist program. Already employed? This program is perfect for improving your skills and keeping up with changes in office technology. Or, take this education even further by continuing into the Administrative Assistant Associate in Applied Science degree.
Also available online, the Business Specialist program will train you in valuable areas such as computers, keyboarding and basic accounting. You'll have the opportunity to prepare for the Microsoft Office Specialist Certification testing by completing word processing and spreadsheet courses. Learning basic and computerized accounting will ensure that you're ready for bookkeeping duties.
Develop the flexibility and variety of skills necessary to meet the changing needs in business. Enter the workforce with the technical training and experience necessary to be a secretary, receptionist or office assistant.
Business Specialist Program Outcomes
Produce proficient word processing documents, spreadsheets, web development, Internet searches, and prepare professional e-mails by integrating technology
Compute a wide variety of calculations relevant to problem solving in real business world applications
Communicate effectively and appropriately in interpersonal, oral, and written forms in a business environment
Apply emerging business and office technologies efficiently and accurately 
Record accounting transactions and financial statements related to the accounting cycle
Demonstrate business standards of professionalism, human relations skills, and customer service attributes


 Faculty Contact
Deb Jones
712-852-5241
djones@iowalakes.edu
Additional Information
Online availability: 100%
TO REQUEST MORE INFORMATION: Click here 
Request a Cost Estimate Worksheet: Click here