2020-2021 College Catalog
Medical Assistant Specialist Diploma (Accepting students for the 2021/2022 academic year)
---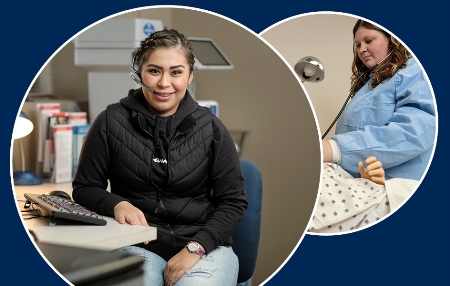 If you like working with people, have an interest in health and are highly motivated, our Medical Assistant program may be a great fit for you. Assisting doctors, healthcare professionals and patients in a range of ways, medical assistants need a wide-ranging skill-set. In addition to the field-specific skills, graduates who want to work as a medical assistant must be well versed in time management, attention to detail, people skills and the ability to multitask.
You will learn the ropes of the field while working in our simulation clinic lab, featuring up-to-date equipment and computer training. Become familiar with clinical duties such as taking patient history, measurement of vital signs, assisting the provider with physical exams and minor office procedures and administering medication. Additionally, you'll receive training in administrative duties such as scheduling appointments, data entry, managing electronic health records, medical coding and more.
In addition to the program's coursework, you will participate in a practicum to receive additional on-the-job training. This training prepares you for what to expect in an ambulatory or medical clinic setting.
According to the 2019 Annual Report Form (ARF), the medical assisting program at Iowa Lakes Community College  
has a certification exam passage rate of 100% for graduate cohort of 2018.
has a job placement rate of 100% for the graduate cohort of 2018.
Program Acceptance Requirements
Provide documentation of physical exam and current immunizations within six months of scheduled practicum; may be required to complete a criminal background and child/dependent adult abuse registry check before placement in participating practicum facilities.
Arts and Science courses may be taken prior to completing medical assistant program core courses.
Core courses must be taken in sequential order and be completed with at least a "C" or "P" in classroom and clinical competencies.
If a student fails to complete the classroom or required clinical competencies in a course, both the failed course and corresponding clinical competencies must be repeated.
Core medical assistant program courses may be repeated only one time.
Medical Assistant Program Outcomes
Administrative: 
Input data utilizing a practice management system.
Manage appointment schedule, using established priorities to accommodate needs of patients, providers and staff. 
Maintain the electronic medical record (EMR) to provide access to accurate health information necessary for continuity of patient care.  
Assign appropriate codes for medical billing and insurance. 
Clinical: 
Implement critical thinking skills to provide ethically safe patient care within the scope of practice for the certified medical assistant. 
Attend to patient needs, working under the direction of primary care providers. 
Utilize appropriate communication skills to provide culturally competent care. 
Participate as a member of the Patient-Centered Medical Home team (PCMH). 
Assist primary care provider with procedures, exams or testing, within the scope of practice for the certified medical assistant. 
Collect laboratory specimens by using established safety protocols.


 Faculty Contact
 Mary Faber
 712-580-8628
 mfaber@iowalakes.edu 
Additional Information
TO REQUEST MORE INFORMATION: Click here 
Request a Cost Estimate Worksheet: Click here