2020-2021 College Catalog
Associate in Science-Chemistry Transfer, AS
---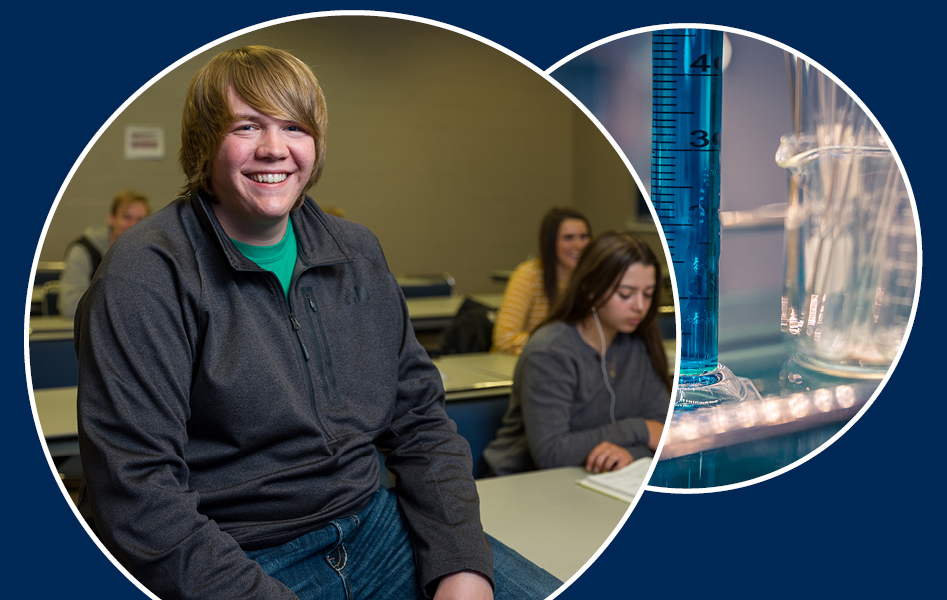 Chemistry is a big part of everyday life and is a growing field with many exciting job opportunities! Iowa Lakes will set you on the right track for a career in Chemistry, including chemical engineer, teacher, pharmacologist, forensic chemist, and more.
Earn your Associate in Science degree in Chemistry before transferring on to a regent university (University of Iowa, Iowa State or University of Northern Iowa) to complete your Bachelor of Science degree. Completion of the AS degree at Iowa Lakes will satisfy the required general education prerequisites at the regent of your choosing. Complete courses in General and Organic Chemistry with labs, as well as Calculus, before even graduating from Iowa Lakes.
By earning this degree, you'll have met the general course requirements for a specific major of a four-year institution and a transfer major recorded on your transcripts from Iowa Lakes. Requirements may vary among institutions so students should work with an advisor to become familiar with specific requirements of the institution which they plan to transfer.
To earn a Transfer Major Degree, a student must complete all required coursework of that specific major and maintain a 2.0 GPA.
A Chemistry Transfer Major can be the formula for success. You have a goal ... we have the plan. APPLY TODAY!
Students who plan to complete their general AA or AS and have a TRANSFER OPTION should contact the college or university to which they plan to transfer to assure that that core  courses they take will transfer into their planned major.
---
Communications Outcomes:
Students are able to communicate clearly, both written and oral using the correct medium.
Students are able to support ideas with appropriate and adequate information.
Science Outcomes: 
Demonstrate safe laboratory practices.
Apply scientific inquiry/scientific method to answer questions about the natural world.
Mathematics Outcomes: 
Apply mathematical methods to solve real world problems.
Evaluate the validity of mathematical solutions. 
Social Science Outcomes:
Students will demonstrate critical thinking skills in written and oral communication.
Students will critique the diversity of human experience, individually and collectively.
Humanities Outcomes:
Form an aesthetic and/or ethical judgement of specific examples.
Use the language of the discipline appropriately.
Computers Outcomes: 
Integrate the technology necessary in the workplace environment.
Demonstrate knowledge in utilizing software application tools.
---


 Faculty Contact
Dr. Tanner Metz
712-362-7959 Ext: 7959
tmetz@iowalakes.edu

Additional Information
​TO REQUEST MORE INFORMATION: Click here 
Request a Cost Estimate Worksheet: Click here
Communications
(10 semester Credits)
Social Science
(6 semester credits from two areas)
Humanities
(3 semester credits)
Computers
(3 semester credits)
Science/Mathematics 
(30 semester credits)
Plus Electives to Total 64 Semester Credits:
May include up to 16 vocational/technical credits; do not include developmental courses or special needs courses.