2020-2021 College Catalog
Automotive Technology, AAS
---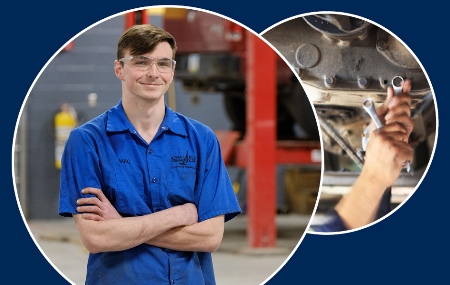 If you want to be in a job field that's always in demand, a career in automotive technology may be a great fit for you. Learn a unique skill-set that's needed anywhere in the world while earning an Associate in Applied Science degree in Automotive Technology. Gain hands-on experience diagnosing and servicing automobiles while working in a modern, high-tech lab at our Emmetsburg campus.
Develop knowledge of transmissions, engine systems, steering and suspension, electronic and electrical systems, fuel injection brakes and shop safety. Find an area you excel at, then choose to specialize in a specific skill. Our Automotive Technology program provides you with certification opportunities in eight different areas.
In just five terms, you'll earn your degree and be ready to work as an entry-level technician. Whether you develop a career as a specialized technician, service manager or auto shop owner, you'll establish a strong set of skills in automotive technology right here that you can take anywhere.
Automotive Technology Outcomes
Select task appropriate tools and equipment. 
Practice safety in the repair and service of automotive systems.  
Identify automotive system components.
Analyze system components for repair/replacement.   
Perform preventative maintenance.
Evaluate system performance to determine needed repairs. 
Explain environmental and legal constraints relating to the automotive industry.
Research applicable vehicle and service information, service precautions and technical service bulletins.


 Faculty Contacts
Additional Information
TO REQUEST MORE INFORMATION: Click here 
Request a Cost Estimate Worksheet: Click here