2020-2021 College Catalog
Aviation/Airport Management, AAS
---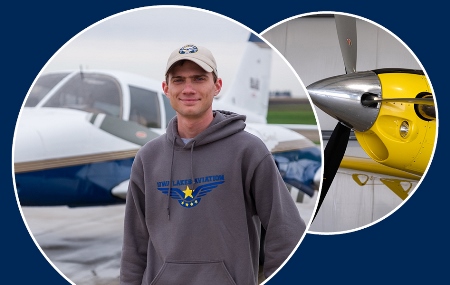 Are you looking for a great career that is fun and pays well too? Then our Aviation & Airport Management program may be a great fit for you. Whether you choose to work as an airline pilot, corporate or charter pilot, ag pilot, flight instructor, or airport manager, you will earn the skills, knowledge, and credentials needed to succeed right here at Iowa Lakes.
The Aviation & Airport Management program is one of the best flight training values in the country. Your flight path to success includes Private Pilot, Instrument Rating, Commercial Pilot, Multi-Engine Rating, and may also include Certified Flight Instructor, Instrument Flight Instructor, and Multi-Engine Flight Instructor. With these credentials, you will be cleared for takeoff in your new career!
With the demand for pilots on the rise, there is a huge need for new pilots to enter the workforce each year. Not only will you earn your Associate in Applied Science degree and FAA licenses and ratings, but with our great industry connections, we'll help place you in an entry-level job and your dream career! If you want to continue to earn your four-year degree, we will show you how to do it while being paid to build hours toward your dream career. We're here to help you succeed!
ESTIMATED FLIGHT FEES*†
Freshmen: Fall semester AVI-180 $6,275.00
Spring semester AVI-245 $15,600.00
Total $21,875.00 *
Sophomores: Fall semester AVI-246 $8,570.00
Spring semester AVI- 350 $2,775.00
AVI-301 $1,550.00
AVI-405 $5,350.00
Total $18,245.00 *
*The listed fees include all flight and ground training, based on the average time required by recent graduates, to
complete all of our FAA approved flight training programs and receive their pilot certifications.
† All aviation flight fees are subject to change. The listed fees include flight and ground instruction based on FAA
approved flight training syllabi. These training times are minimum FAA training requirements. Actual training cost
may be slightly higher. All aviation flight fees are subject to change. 
---
Aviation / Airport Management Program Outcomes
Assess the safety of an aircraft.
Perform a pre-flight inspection.
Adapt to changing weather conditions.
Plan a cross country flight.
Conduct a cross country flight.
Predict aircraft performance based on existing conditions.
Master control of the aircraft with success of the flight never in doubt.
Pass the appropriate Federal Aviation Administration tests. 


 Faculty Contact
Tim Busch
712-362-7961
tbusch@iowalakes.edu
 
Additional Information
TO REQUEST MORE INFORMATION: Click here 
Request a Cost Estimate Worksheet: Click here