2020-2021 College Catalog
Business Administration & Management, AAS
---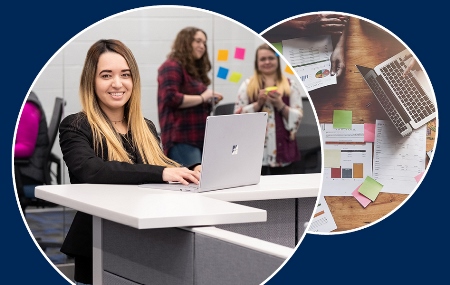 Do you like taking the lead on projects? Do you enjoy being in charge? Then a career in Business Administration and Management may be the perfect fit for you.
Whether you dream of running a business or you'd like to specialize in marketing and sales, our Business Administration and Management program will help you get the education you need to enter the workforce with confidence.
Learn something new every day while acquiring the skills and knowledge needed to succeed in the complex field of business. With courses in sales, marketing, management, accounting and human resources, you'll develop the skills needed to excel in today's competitive business environment.
Create the education experience that's best for you. Coursework is built on a solid business core, general education courses and a concentration specialization. With the opportunity to earn an Associate in Applied Science Degree, you may choose from four concentration areas or develop your own specific focus.
Business Administration & Management Program Outcomes
Communicate goals in support of a business' mission.
Apply the marketing mix and its implications to business strategy.
Analyze financial statements and the implications for business decisions.
Utilize value added customer service skills and behaviors.
Differentiate the varies factors that influence economics.
Prepare word processing, spreadsheets, data base, and presentation documents.
Interpret skills that enhance ability to work with and through people to accomplish organizational goals.


 Faculty Contact
Denise Reimer
712-852-5258
dreimer@iowalakes.edu
Additional Information
Online availability: 100%
TO REQUEST MORE INFORMATION: Click here 
Request a Cost Estimate Worksheet: Click here